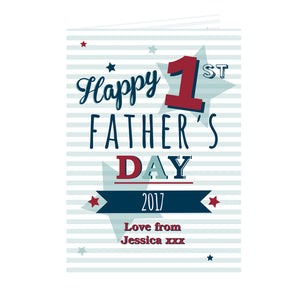 Personalised 1st Father's Day Card
This card will make a great gift for him for Father's Day.

The card can be personalised on the front with a date/year or name up to 10 characters and then a message over 2 lines up to 20 characters per line. The words 'Happy 1ST FATHER'S DAY' are fixed. You can then personalise the inside of the card with 5 lines of text up to 25 characters per line.

The date/year/name on front inside the blue banner will automatically appear in UPPERCASE. All other personalisation entered on the front and on the inside of the card will appear however the customer enters.
When entering your personalisation please enter the following;
Message Line 1 = date/year/name
Message lines 2 & 3 = Appears on front of the card
Message lines 4 - 8 = Appears inside the card

This card measures 185mm x 132mm and comes in a brown outer envelope with a Plain White envelope inside.
Please note due to being a personalised product we aim to get this item dispatched within 3 days.

Your text will be printed exactly as you have entered it, so please double check spelling, punctuation and capitalisation.
Not all accents and symbols can be printed.
www.poppystop.com specialises in personalised gifts, Chic homeware accessories and premium stationery. Follow us on social media for exclusive deals & more gift ideas.