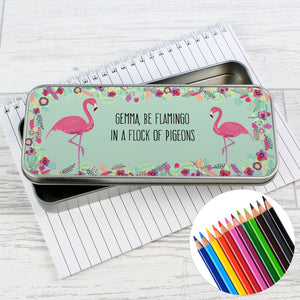 Personalised Flamingo Pencil Tin with Pencil Crayons
This awesome Personalised Flamingo Pencil Tin with Pencil Crayons is the perfect pencil case & School Stationery Set to make sure you are ready for getting Back To School and keeping all of your favourite stationery safe.

Personalised Flamingo Pencil Tin can be personalised with 2 lines of text with up to 25 characters per line. Please note that all text will appear in a fixed upper case.

The Pencil Tin also comes supplied with 12 pencil crayons (these will not be personalised).
Dimensions of Pencil Case: Height 7.6 cm Width 18.6 cm Depth 2.3 cm
Personalised Pencil Cases
 
Our range of Personalised Pencil Cases means that your little one stands out from the crowd, with their own unique pencil case. Being a personalised pencil case, it also means that it is less likely to get lost or be misplaced.
PLEASE NOTE
Due to being a personalised gift, we aim to get this Personalised Flamingo Pencil Tin within 3 working days. Your text will be printed exactly as you have entered it, so please double check spelling, punctuation and capitalisation.
Unfortunately, Not all accents and symbols can be printed.
www.poppystop.com specialises in personalised gifts, Chic homeware accessories and premium stationery. Follow us on social media for exclusive deals & more gift ideas.