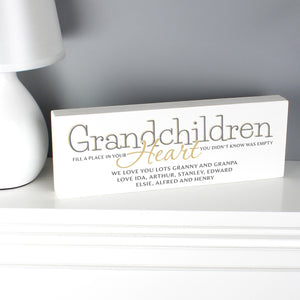 Personalised Grandchildren Wooden Block Sign
This Lovely Wooden Block Sign is an ideal way of adding a rustic flair to any home and makes a great gift from the grandchildren.

The mantel block can be personalised with 3 lines of text with up to 50 characters per line. Please note that all personalisation will appear in fixed upper case.

'Grandchildren fill a place in your heart you didn't know was empty' is fixed text and cannot be change.

Ideal for placing on a mantelpiece or shelf.

Please note that these items are made from solid wood and therefore may contain some imperfections due to their natural material.

Ideal for Christmas, Birthdays, Mother's Day.
Dimensions: Height 9.5 cm x Width 27 cm x Depth 2.5 cm
Warning: please double check your personalisation as how it appears here will be how it appears on the product, including spacing and punctuation. Please do not include accents and special symbols as some of our processes will not allow this.
Due to being a personalised product we aim to get this product dispatched within 3 working days.