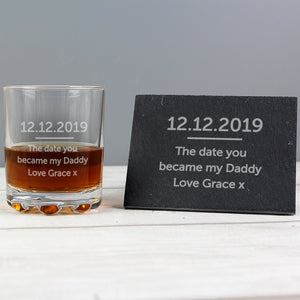 Personalised Whisky Tumbler & Slate Coaster Set
This personalised whisky glass and coaster set make the perfect gift to mark a special memory.

Personalise this whisky glass and coaster set with a name/date up to 12 characters long. You can also personalise this product with a message of 3 lines with up to 20 characters per line.

Please note: The same message will appear on the glass and coaster.

Line 1 is fixed upper case, lines 2-4 the personalisation will appear as entered.

The coaster has pads on the underside to protect the surface they are placed on.

When entering your personalisation please use the following:
Line 1 = Name / Date
Lines 2-4 = Message

PLEASE NOTE- Each slate piece will be unique as the item is cut by hand. Due to the nature of slate, there will be some differences in the stone (such as texture, cut and smoothness). This may result in natural faults in the surface and edges of the product including flaking and uneven corners.

Each item contains speckles of fools gold which makes a stunning feature and adds to the rustic feel however it may be at times within the area of your personalisation.
Please note due to being a personalised product we aim to get this item dispatched within 3 days.
Your text will be printed exactly as you have entered it, so please double check spelling, punctuation and capitalisation.
Not all accents and symbols can be printed.
www.poppystop.com specialises in personalised gifts, Chic homeware accessories and premium stationery. Follow us on social media for exclusive deals & more gift ideas.